BRIEF
Design an annual report for stockholders, journalists and the financial public illustrating Adris as a company that can withstand any challenge. Adris is one of the most successful companies in the European Adriatic region. Since its founding in 2003 it has changed sectors and adapted to all market conditions, no matter how difficult they were. Today, the company operates in three sectors: mariculture, tourism and insurance services.
IDEA
A challenge-proof book.
EXECUTION
This annual report can withstand tearing, creasing, water and fire. It has been tested by flambéing in the Hotel Lone kitchen; Cromaris fishermen dipped it into the sea and took it for a spin across the fish farm; it was frozen in liquid nitrogen at -195.79°C with the help of the Adris Foundation fellow, Assistant Professor Dinko Mitretić, Ph.D.; children at the Amarin Hotel played with it and couldn't crease or tear it; it was even run over by a 2-ton off-road vehicle at a Croatia Osiguranje Motor Vehicle Inspection Station. The book remained undamaged.
CHANNELS
Annual report.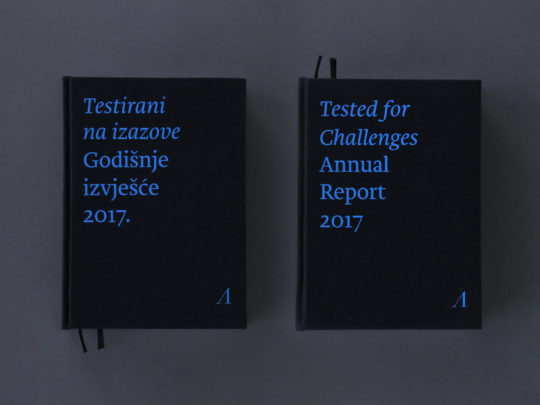 RESULTS
The book successfully communicated the message and even the journalists were inspired to write about it.
AWARDS
IdejaX Bronze in Corporate Communications
TEAM
Client: Adris grupa
Client team: Predrag Grubić, Kristina Miljavac, Hrvoje Patajac
Agency: Bruketa&Žinić&Grey
Agency team: Davor Bruketa, Zrinka Horvat Goodman, Maša Ivanov, Zrinka Požar, Andrea Knapić, Vesna Đurašin, Radovan Radičević, Ante Kantor
Collaborators: Cerovski Print Boutique, Domagoj Kunić
CREATIVE DIRECTOR'S STATEMENT
"We have been collaborating with Adris for over 15 years and successful projects are made thanks to this mutual trust and understanding. Among them are the internationally acclaimed annual reports that Adris uses, and they are a rare example, not only as a functional business element but as a medium for communicating its values." Davor Bruketa, Co-Founder and Creative Director, Bruketa&Žinić&Grey
CLIENT'S STATEMENT
"Adris grupa is consciously exposed to the risk of creativity. We think the time of traditional solutions in business is gone and that, even though too slowly, dramatically slowly, Croatian businesses are also moving towards a more creative economy where design matters, sometimes crucially, for increasing competitiveness and adding value to a company on the global market. In order to be more efficient, we need to, despite the risk, be open to new knowledge, innovative and creative solutions and accept the collaboration between entrepreneurs and designers." Predrag Grubić, Adrias Grupa